PAHA Annual Celebration: "Old Mayfield Fun"
Wednesday, June 7, 2023
5:00 - 7:00 pm

El Palo Alto Room
Mitchell Park Community Center
3700 Middlefield Road
Palo Alto
We are excited to invite you to this year's PAHA cocktail event celebrating Mayfield's storied past. Join us for appetizers, cocktails, displayed artifacts, entertainment, and good old fun!
Before there was Palo Alto, there was Mayfield. The rival towns had two very different reputations. Mayfield grew around Uncle Jim's Cabin, a roadhouse built at the main stagecoach junction with the only saloon in the area. It was immediately popular with travelers and locals alike. As Mayfield expanded, the main attraction was its thirteen saloons and two breweries contributing to the town's wild and rowdy population. Lumbermen and farm hands would spend their week's wages drinking in town. Stanford students congregated at the local bars and the University put up a barrier to block the main access to Mayfield in hopes of preventing them from making the libatious pilgrimage.
In honor of Mayfield's colorful history and just for fun, we've poured a little bit of our rambunctious past and modern sophistication into a signature cocktail inspired by the world's most-popular refreshment in a glass: The Palo Alto Old Fashioned.
FREE for member* plus one guest
* A $40 PAHA membership includes free admission to our annual event plus one guest.
Not yet a member? Please see Membership and Donations to become a member.
Space is limited and RSVPs are required.
Make your reservation before May 28th at Eventbright.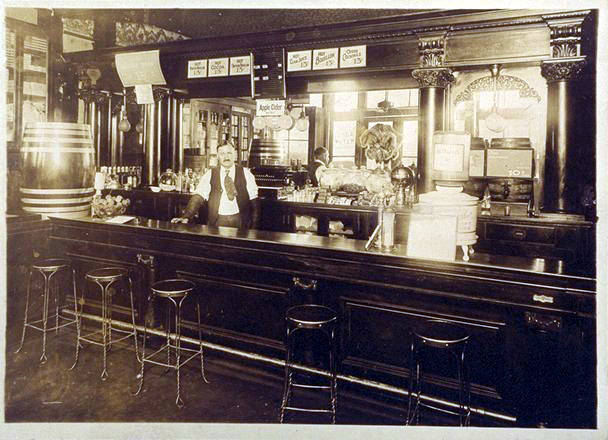 Charles Peterson, bartender, posed behind the bar of Rehfeld's Place, located at Main and Lincoln (now El Camino Real and California Avenue), 1923
PAHA programs are recorded. DVDs of the programs can be checked out from the Archives at Cubberley Center, Room-7. Recordings of our programs, titled "Heritage", are broadcast on local cable public access Channels 28 and 30 on various days and times. They are simultaneously streamed on the Media Center web site www.midpenmedia.org - check web site for schedule.
Also on the Vimeo site you will find programs from past seasons, including the December 2021 program Life in the Frank Lloyd Wright Hanna House with Karen Holman and John Hanna, and PART: Palo Alto "Rapid" Transit with PAHA Historian Steve Staiger presented in January 2022.