Archives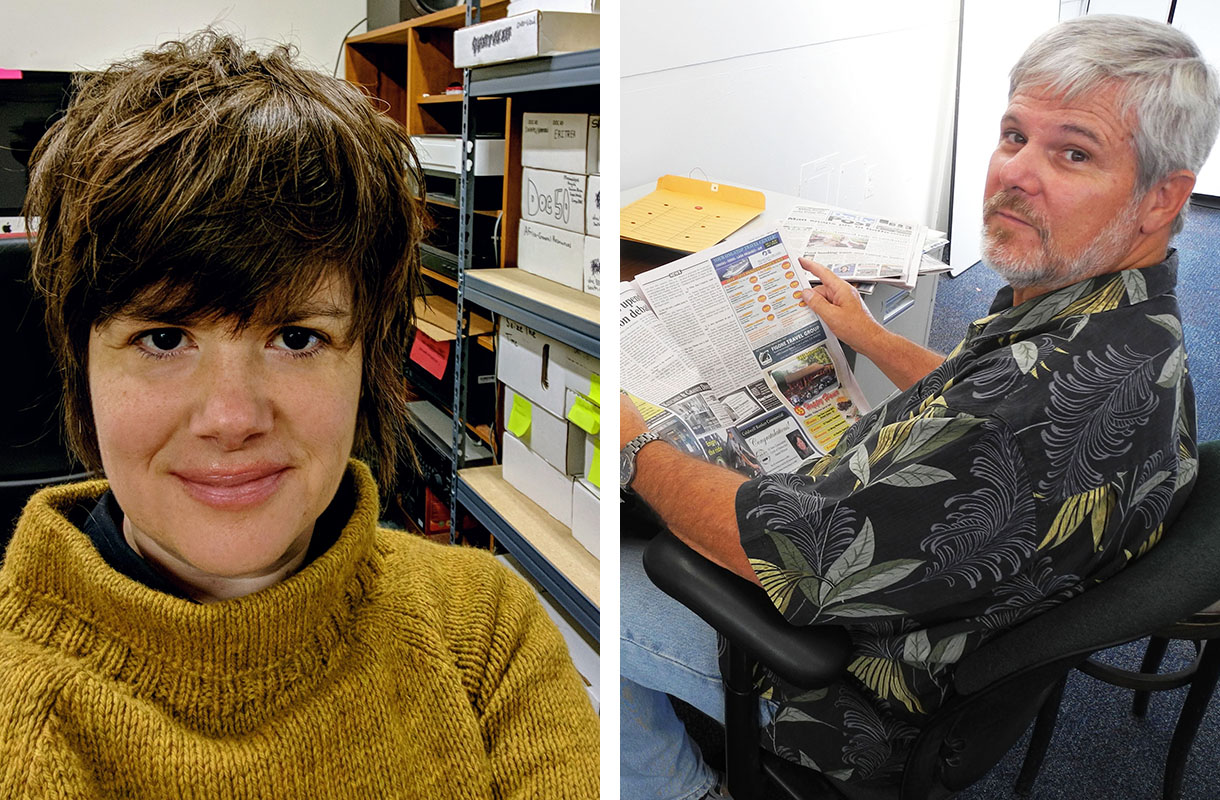 Cubberley Community Center, Room K-7 - Guy Miller Archives
4000 Middlefield Road, Palo Alto, CA 94306
View Larger Map
PAHA continues to operate during the COVID-19 pandemic. The Guy Miller Archives at Cubberley Community Center, K-7 are open by appointment. Historians Steve Staiger and Darla Secor are available to assist you in any of your historical pursuits. If you would like to have an historic conversation with Steve or Darla, or make an appointment to visit the Archives, they encourage you to contact them at (650) 329-2353 or by email at steve.staiger@cityofpaloalto.org or darla.secor@cityofpaloalto.org
---
The Palo Alto Historical Association is charged by the City of Palo Alto with maintaining the city's historic archives and making them available to the public. The archives are named the Palo Alto Historical Association - Guy Miller Archives, in honor of Guy Miller, Palo Alto's first historian.
The archives are located at the Cubberley Community Center, Room K-7, 4000 Middlefield Road, Palo Alto, CA 94306.
The archives include:
Historic photographs of Palo Alto and neighboring cities, dating from 1870. Of the more than 15,000 photographs, over 14,000 are currently available online in our Photograph Collection.
Information on subjects of local interest, such as local organizations, local businesses, biographical information, brochures, and advertising fliers.
Obituaries published in local newspapers from the 1890s to the present. The Obituary Database is an on-line listing of the obituaries.
Local property files, including working papers for the city-wide historic property survey.
Maps
Oral histories in audio and video form
DVDs of programs presented at our general meetings, available for checkout.
Historians
Steve Staiger and Darla Secor are PAHA's historians. During the COVID-19 pandemic, they are available for telephone and email conversations as well as in-person meetings by appointment. Contact them at the Archives at (650) 329-2353 or by email at steve.staiger@cityofpaloalto.org or darla.secor@cityofpaloalto.org.
The Association can provide a speaker for your group's meeting. The Historians are available to speak to your church group, social club, neighborhood meeting or school class on a topic relating to Palo Alto's history. There is no charge for this service. For information please contact the Historians.
Use of the Archives
Who may use the archives?
The archives are available to everyone.
Do I need to make an appointment?
During the COVID-19 pandemic, visits can be arranged by appointment. We look forward to establishing regular business hours soon.
How can I find out what is in your collection?
A general listing of the contents of the archives can be found above. The historians are available by phone, email, or in-person meeting by appointment to assist you in your specific needs.
Can I photograph or scan material from the archives?
At the discretion of the staff, digital photography and scanning are permitted.
Are digital images of the photographs available?
Part of our historic collection of photos is available online at Photograph Collection. If you need a higher resolution copy of a photo, a digital file of the photograph is available for a fee. Contact our historians for further information.
Personal, non-commercial use of digital images from our web site is permitted, with attribution to the Palo Alto Historical Association, for all images unless otherwise noted.
Donate to the Archives
Let us recycle it for you!
The Association actively seeks donations of material to bolster our collection. Photographs, maps, brochures and school yearbooks are examples of items that have been donated to us recently. Photographs are the true treasures of any local history collection. Desirable photographs include class photographs, snapshots of neighborhood street scenes and houses, and photos that document local places and events. Photos taken last week, last year, or 100 years ago are equally desirable. We don't want to compete with your family for these items; rather we are trying to preserve material destined for the dump. Our founding historian's motto was "Let me throw it away for you.", we have updated it to "Let us recycle it for you."
Please contact Steve Staiger or Darla Secor to discuss your potential donations.